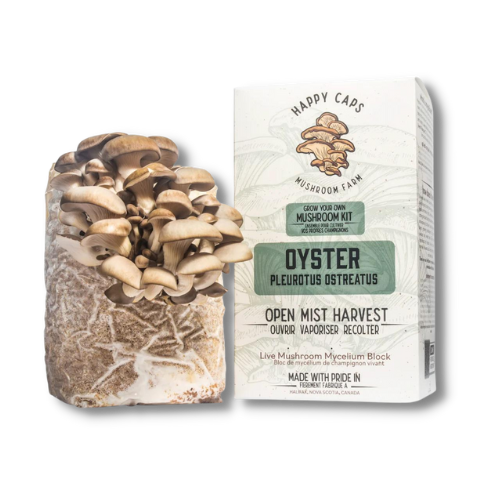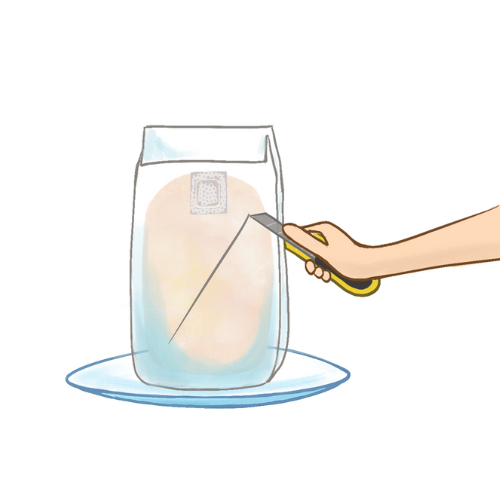 Step 1
Open
Open the box and remove the provided humidity tent, spray bottle & mushroom block. With scissors, cut a 4" slit across one side of the plastic bag, from corner to corner. Soak the block in a pot of water for 4 hours. Ensure it is totally submerged by placing something heavy on top of the block.
KEEP THE BLOCK INSIDE OF THE PLASTIC BAG
Step 2
Place
Place a damp paper towel on a plate, then set the mushroom block on top of the paper towel. Using the provided humidity tent, roll the opening of the tent up and stand it loosely over your block. Mist the block and the inside of the humidity tent 1-3 times per day, depending on your climate.
Find a good spot for your block to live for the next few weeks. An ideal spot would be in the most humid part of your house on a counter top or shelf (not inside a cupboard or closed off room). Keep out of direct sunlight and away from drafts or heaters. Stand the block up and the mushrooms will grow from the slit. 
Step 3
Care
Using the provided spray bottle, mist around the slit of your block and then place the provided humidity tent over the block. Mist inside the tent to create a humid environment. Mist 1-3 times a day while you wait for mushroom pins to appear. Once you see the oysters starting to pin, ensure that the block never dries out, but misting frequency can be reduced. (See special notes below)
Step 4
Harvest Time!
In 1-3 weeks, you should start seeing little mushroom pins poking out of the slit on your block. Mist multiple times a day and make sure the mushrooms are not drying out. In about 4 days you will have full sized mushrooms ready to pick and eat! Harvest when the caps are big and open, before they fully flatten out and the edges start to crack.
Step 5
Rehydrate
After you have harvested the mushrooms, simply continue misting and within 3 weeks you should get an additional flush of mushrooms. You can get 2 - 4 flushes of mushrooms from this block.
Added Oyster Growing Tips!
What if there is alreadys ome pre-growth?

+

Pre-growth is very common! If you see an Oyster mushroom inside the box when you first get it, don't panic! Simply remove the growth and continue at Step 1. 
Keep it Hummid!

+

Always use the provided humidity tent to maintain a humid environment. It's recommended to purchase a humidity reader to ensure your block is getting the right amount of humidity

If at any point the block seems really dry, soak it in a large pot of cold tap water overnight to rehydrate it. Do not exceed 8 hours soaking.
Keep it Fresh!

+

Do NOT put the block inside of an enclosure that will restrict fresh air. Oyster mushrooms require a fair amount of fresh air exchange to develop large caps. Limiting fresh air will cause long stems and small caps.