Step 1
Open
Open the box and remove the provided humidity tent, spray bottle & mushroom block. With scissors, make an X-shaped cut on the block, close to the top. In a few days, you may see a new white bump form somewhere under the plastic. Make a second 'x' cut there. If you don't see any new white bumps, no worries, just make your 2nd cut somewhere else on the block that has a lot of white, colonised mycelium  
KEEP THE BLOCK INSIDE OF THE PLASTIC BAG
Step 2
Place
Place a damp paper towel on a plate, then set the mushroom block on top of the paper towel. Using the provided humidity tent, roll the opening of the tent up and stand it loosely over your block. Mist the block and the inside of the humidity tent 1-3 times per day, depending on your climate
Find a good spot for your block to live. An ideal spot would be on a countertop, out of direct sunlight and away from drafts or heaters. We recommend placing it on your kitchen counter
Step 3
Care
Using the provided spray bottle, mist around the slits on your block and the inside of the humidity tent. Misting 1-2 times daily should be plenty, depending on the humidity of the environment.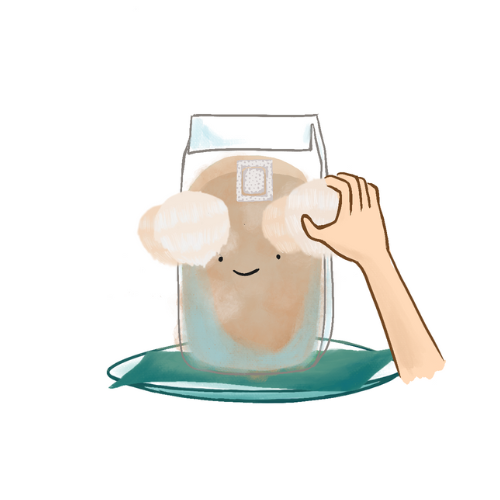 Step 4
Harvest Time!
Now the exciting part! After 7-10 days, small mushroom pins should be starting to poke out of the cuts on the block. The mushrooms will take about one week to mature. During this time, mist multiple times a day to make sure the mushrooms do not dry out. Harvest when the mushroom starts to develop hanging, icicle-like structures
For nice hanging teeth, we need to control the humidity. Try not to soak the mushroom itself with water too much when misting. Aim for around 85% humidity while growing. A light condensation on the inside of the grow tent is perfect.
Step 5
Rehydrate
After harvesting, simply continue misting daily and within 3 weeks, you should get another flush of mushrooms. You can get 2 - 4 flushes of mushrooms from this block.
Added Lions Mane Growing Tips!
Secure your block

+

IMPORTANT - Ensure that the top part of the block is rolled down and secured. DO NOT UNROLL and set up the block with the top portion of the bag unrolled. Doing this will trap the mushrooms inside the block. You want to eliminate the space at the top of the block, so the mushrooms are forced to grow through the cuts made on the block.
Keep it humid!

+

If at any point the block seems really dry, you can soak it in a large pot of cold tap water to rehydrate it. You probably will not need to soak between the first and second flush of mushrooms. After the second flush, try soaking for 4-8 hours.

Lion's mane mycelium is very light and wispy. If you are expecting oyster mycelium, you may think the block is not fully colonised, but it is. 


The purpose of misting is to create a humid environment around the block and not necessarily to add water to the block. A light mist on the inside of the humidity tent and surface of the block should be plenty.


To develop nice hanging teeth, the humidity must be controlled well. Try not to soak the mushroom when misting. Maintain around 85% humidity while the mushrooms are growing. A light condensation on the inside of the humidity tent is perfect.